How It Works
The Personal Loan Process
Our simple online loan request process is designed to help connect you with a lender from our network or from another third-party lender network that may be able to offer you a loan. It is also designed for us to market other credit-related products and services to you, such as debt relief, credit repair and credit monitoring. In addition to personal loans, some of our lending partners may offer lines of credit or other types of loans. If a lender makes you a loan offer and you accept, you can receive your funds in as little as one business day. You will then have anywhere from 90 days to 72 months in which to repay your loan, depending on the terms of the loan agreement with your lender. The APR for loans in the personal loan network varies, with many providers offering rates between 5.99% and 35.99%. Please note that our lender network includes tribal lenders. Tribal lenders' rates and fees may be higher than state-licensed lenders, and are subject to federal and tribal laws, not state laws. Learn more in our Ad Disclosure.
The entire process takes just a few easy steps: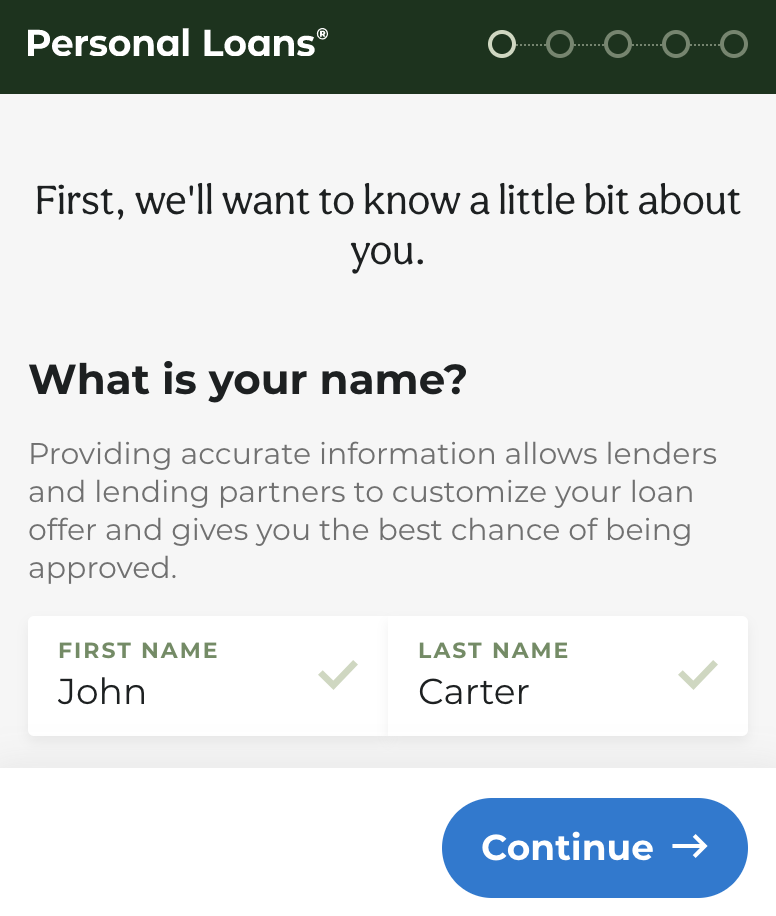 You fill out the simple loan request form here on our website, including how much money you would like to borrow, your credit type, and loan reason. The form will also require you to provide some personal, banking, and income information. This information will be shown to the lenders in our network and in other third-party lender networks so the lenders in these networks can choose whether to offer you a loan.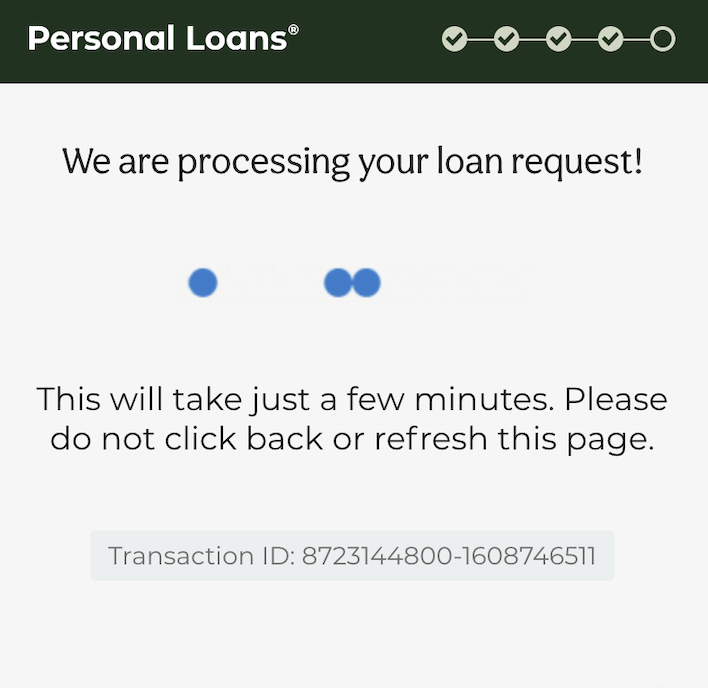 Shortly after reviewing your loan request information, lenders or lending partners will make a decision on whether to offer you a loan by inviting you to complete an application with them on their website based on the information provided. If approved, you'll be redirected to a loan agreement with terms and conditions, including the amount you will need to repay and the repayment time frame. Make sure you understand the key elements to your loan agreement, including the loan interest rate as well as the repayment terms prior to accepting an offer.
If you agree to the terms of the loan agreement the lender will send funds directly to your bank account. The exact amount of time it takes for your funds to reach your account will depend on the time of loan approval as well as the lender or lending partner you work with, but in all likelihood you will receive the money within one to five business days, depending on your preferences and eligibility.
After we try to connect you with a lender, we may show you ads for lenders and/or other credit-related products or services like debt relief, credit repair, credit monitoring. We may also send you additional marketing communication about these types of offers. This additional marketing activity helps us make a financial profit from our free service. Learn more in our Ad Disclosure.
Personal Loan Requirements
Although we will accept loan requestors with any credit score, there are still a few basic requirements that the lenders in our network are looking for. Before you request a loan, make sure you meet specific criteria regarding these items. Please note that meeting these requirements does not mean that you will be connected to a lender.
Age/ID/Residency Status - You must be 18 or older to be eligible for a personal loan. You must also have a valid Social Security number, and be a legal U.S. citizen or permanent resident.

Income - In order to ensure that you will be able to repay a loan, you must either have full-time employment, be self-employed, or receive regular disability or Social Security benefits. Some lenders or lending partners may require a pay stub or other form of income verification.

Bank Account - Most loans require a valid checking account, as once a loan is approved for you through PersonalLoans.com, your lender or lending partner will deposit your funds directly into said account.

Credit Type - Although it is always better to have good credit, you do not necessarily need to have a good or excellent credit record to qualify for a personal loan. Having good or excellent credit might cause a lender to provide you more favorable terms. Most lenders require that customers demonstrate a pattern of responsibility. To be eligible for a personal loan product, typically an individual must not have any accounts more than 60 days late; must not have active or recent bankruptcies; must not exhibit a pattern of late payments; must not have any debt that cannot be covered by current income; and must not have any recently charged-off accounts. We are not a lender, and do not make any lending decisions. Only a lender can decide if they choose to extend a credit or loan offer to you.
Meeting these requirements does not necessarily guarantee you will be approved for a personal loan, but it does significantly boost the chances that approval will occur.
Types of Personal Loans®
Listed below are different loan types and example underwriting requirements for different loan types.
Typical Requirements:
• Credit Score: 600+
• Minimum Income: $2,000 per month, must be verifiable
• Income Source: Employed or Self-Employed
• Loan Range Given: $1,000 to $35,000


Peer-to-peer lenders connect borrowers directly to investors, rather than offering the loan themselves. A peer-to-peer or P2P loan means that you will be borrowing money directly from a person or company, rather than the bank. Peer-to-peer loans ensure that borrowers are paired with individuals looking to invest in a detailed note. Often your loan reason will be disclosed to the investors reviewing the notes available on the peer-to-peer lender system.
As the borrower, you will fill out a basic loan request form and post your desired loan amount. Investors will then view your listing and choose the one that best fits their specific needs. Once a deal is brokered, you will make fixed monthly payments to the investor until your loan is paid off.
The entire process takes place online, so you will never have to leave the comfort of your own home. Requesting a loan only takes a few minutes, and if you qualify for a peer-to-peer loan you may be given a list of loan options to choose from. Many borrowers prefer peer-to-peer lending due to lower rates.
You can borrow anywhere from $1,000 to $35,000 with a peer-to-peer loan, depending on your credit type. PersonalLoans is partnered with several peer-to-peer loan lenders and each lender has their own set of investors and terms. Peer-to-peer lenders often collect a loan origination fee of anywhere between 1 to 5% which is deducted from the loan amount given to the borrower.
Typical Requirements:
• Credit Score: 580+
• Minimum Income: $2,000 per month
• Income Source: Employed, Self-Employed, or Benefits
• Loan Range Given: $1,000 to $35,000


The personal loan installment loan process is also quick and convenient. You can request a loan online by providing basic personal and financial information. Your lender or lending partner will provide you with a loan agreement individually tailored to your financial needs. Once you accept the loan agreement, your loan will be deposited directly into your bank account. Again, review the terms of your agreement before you sign, as each lender or lending partner will have their own specific repayment process.
Consumers are encouraged to research applicable Federal and state laws, and to ask their lenders or lending partners for more information. If a lender or lending partner is wholly owned and operated by a federally recognized American Indian Tribe and sovereign government, applicable Tribal and Federal law governs its loans and related contracts, applications and documents. For example, personal installment loans can vary by state. Each state has its own rules and regulations for personal loans, so your loan amount and rate will depend on where you live. Also, your loan amount, APR and length of loan may depend on a variety of factors that lenders or lending partners use including your credit score and repayment history.
Typical Requirements:
• Credit Score: 580+
• Minimum Income: $3,000 per month
• Income Source: Employed or Self-Employed
• Loan Range Given: $1,000 to $35,000


A bank personal loan provides one-on-one local service to borrowers who would like to request a loan in person at their local bank. First by phone or in person and provide your personal information for the loan. Some banks even allow you to request a loan online as well. If you request a loan online you will likely be directed to the nearest local branch to complete the loan request process in person. After you are approved, you will either receive the funds at the branch or they will be deposited to your bank account.
You may be eligible for a bank personal loan up to $35,000, and you can discuss the individual terms and payment options at your local branch. Most bank personal loans have fixed rates, and may provide you with money in your account as soon as one business day, if approved.